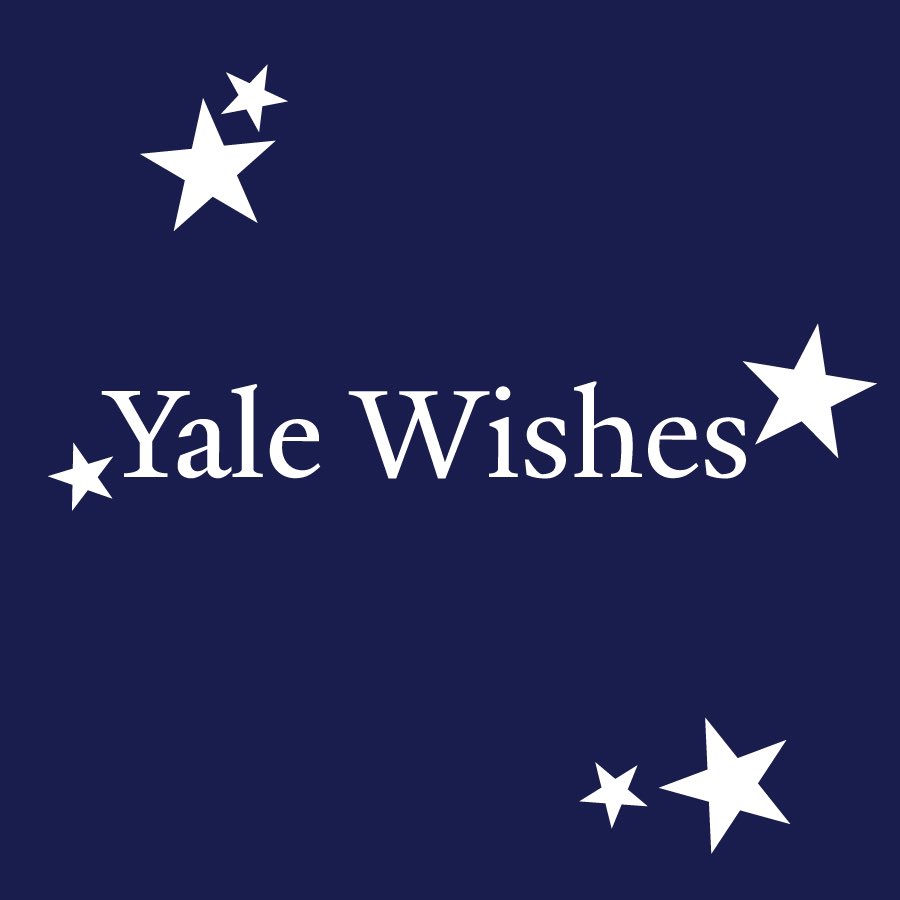 I was delighted to learn of the Yale Wishes initiative and with the invitation to write a letter to a current 1stGenYale student.
Here's the letter I wrote, which I adapted from a message I sent to my nieces when they started college a few years ago.
---
Dear 1stGenYale student,
I was that financial aid kid who worked extraordinarily hard in high school and was obsessed with academics, extracurricular activities, the SATs, and college admissions.  When I arrived on campus, I quickly wondered what I was doing at Yale. I felt the immediate wonder and burden of the Yale experience. I never thought I belonged and have often felt like I was living proof of the Imposter Syndrome.
With a 30+ years association with Yale, I'd like to offer you the following advice on maximizing the Yale experience:
The college experience is a privilege not a right. With online resources, college-level courses, podcasts and blogs, you could achieve a world-class education for free online. Appreciate that the Yale community enhances the learning experience.

Learn as much as you can in the next four years. Both from your professors and classmates.  You are surrounded by mentors. Classmates, grad student TAs, and professors you have not yet met are remarkable resources.  You should reach out to them if you are struggling with concepts and learning. A Yale student ID is a passport to those who possess a love of learning.

Yale has vast hidden resources available to you. Take advantage of them. Libraries are places to study and explore. The book you find in the stacks will have resources adjoining ready to be discovered. Google Books & Wikipedia are nice starts but originality comes from researching primary sources.  There are endowed funds for the Library to purchase books they don't own and which you may need for your research. The best kept secret is Scan & Deliver.  

Remember that borrowed & purchased books should not simply collect dust. Books are meant to be opened, read, and enjoyed. You may not read every book in the curriculum and you will be fascinated that your classmates "read that book in high school." Learn at your own pace and seek help when you don't understand concepts.

More than 25 years after graduating Yale College, my biggest regret is that I did not go to professor office hours often enough. You'll be surrounded by world-class faculty and graduate students who have the skills to teach you outside the lecture hall.  Honor and respect them. Seek out your teachers for help. They are not there to complete your coursework. Rather, come prepared with questions and ask them to guide you in the journey of learning.

Learn gratitude.  Write to teachers, counselors and mentors to thank them for helping you along your journey.  A text message doesn't count. Put pen to paper.  

Be careful not to judge yourself against your peers. You are now surrounded by many more classmates who have natural abilities which you do not have.  I was pre-med and an Ethics, Politics, and Economics major. I felt overwhelmed by the diversity of coursework and amazed at my classmates who could master both and with such ease!  

Remember that success depends on those who have grit.  Success and failure are both part of success. You cannot be successful in life unless you fail on occasion. The mark of success is being able to give your best effort, be knocked down, and still stand up and fight again. (Read Teddy Roosevelt's

In The Arena

and watch my high school classmate Angela Lee Duckworth's

TED Talk

.) 

Surround yourself with classmates that inspire you. Find ways to avoid those who do not inspire you or take away from your learning & growth experiences.

 Limit social media.  Every post you make will be reviewed by a graduate school admissions officers and human resource departments.  Turn your phone into airplane mode, set an alarm for 30-60 minutes and then study uninterrupted. (I learned this from Shane Parrish's wonderful

Farnam Street blog

&

The Knowledge Project podcast

.)

 Finally … I envy you!  I wish I could drop everything and be a full-time student, surrounded by the Yale Community.  You deserve to be at Yale. As a first generation Yale student, you are a natural leader.     
I hope that you will look upon these next few years as a learning experience. I hope that you will utilize the unlimited resources that are available to you.  When you stand on Old Campus on Commencement Day, remember that generations of Yale alumni helped you along your journey. I promised that one day I would repay that generosity by paying forward to the next generation.
If you need help, assistance, or an ear to listen to, reach out to parents, siblings, extended families, and members of the Yale family (classmates, professors, deans and heads of colleges).  Send me a message and I'd be delighted to help you along your journey.
You are surrounded by those who want you to succeed in life. Do not waste these next four years on stress, the loss of learning opportunities, nor regret.
For God, For Country, and for Yale …
Sincerely,
Ravi D Goel, MD
TD 1993