Welcome to day #5 of my daily learning goal. I'm committed to watching one TedTalk and one cataract surgery video each day. In addition, I plan to read one journal article and read/listen to a book chapter, short story or other piece of significant work.
So each day — in between podcasts, Google News, YouTube, and countless other distractions — I will share 4 items of learning that I've viewed or read the same day. This page will be posted after I've completed the tasks.
Here's today's list:
Ted Talk – How to deconstruct racism, one headline at a time. Baratunde Thurston – "Baratunde Thurston explores the phenomenon of white Americans calling the police on black Americans who have committed the crimes of … eating, walking or generally "living while black." In this profound, thought-provoking and often hilarious talk, he reveals the power of language to change stories of trauma into stories of healing — while challenging us all to level up."
2. Cataract Surgery – Uday Devgan MD – Complete Case: loose zonular support – "Another great video in our series of Complete Cataract Cases: a dense cataract in the setting of loose zonular support. When we start to perform the cataract surgery we notice that the anterior lens capsule wrinkles extensively when we attempt to perform the capsulorhexis. This surgery is significantly more challenging than a typical cataract case, and we spend more time completing it. The entire case is showcased in the video below and while it does require a 9 minute investment of time, it is well worth it for the learning points." I love when Uday apologizes for a "long case" which is 9 minutes!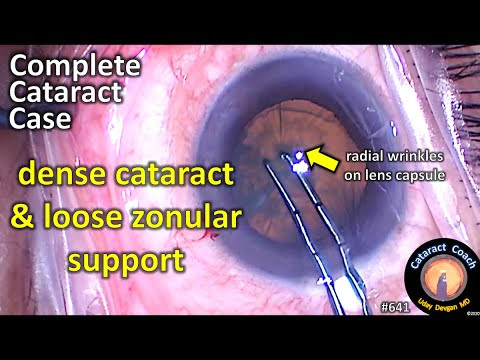 (My 9-minute cataract surgery video is here!)
3A. Journal article (Online First) – Gordon MO, Gao F, Huecker JB, et al. Evaluation of a Primary Open-Angle Glaucoma Prediction Model Using Long-term Intraocular Pressure Variability Data: A Secondary Analysis of 2 Randomized Clinical Trials. JAMA Ophthalmol. Published online June 04, 2020. doi:10.1001/jamaophthalmol.2020.1902
BONUS (Author interview!) – JAMA Ophthalmology Editor-In-Chief Neil Bressler, MD interviews the article's lead author. Interview with Mae O. Gordon, PhD, author of Evaluation of a Primary Open-Angle Glaucoma Prediction Model Using Long-term Intraocular Pressure Variability Data: A Secondary Analysis of 2 Randomized Clinical Trials. (Audio link here)
4. Marcus Aurelius, Meditations, Book 5. I found a great podcast version and listened to Book 5 today (32 minutes). I find the podcast version enjoyable versus reading with distractions. Worth listening to twice if you have the time. Here are links to free translations online:
Meditations on Guttenberg Project site (Produced by J. Boulton, and David Widger)
Meditations on mit.edu (George Long translation)
Meditations on Apple Podcast (Loyal Books). (George Long translation)
5. (BONUS) Podcasts –Freakonomics – Introducing "No Stupid Questions" (Ep. 422). "In this new addition to the Freakonomics Radio Network, co-hosts Stephen Dubner and Angela Duckworth discuss the relationship between age and happiness. Also: does all creativity come from pain? New episodes of No Stupid Questions are released every Sunday evening."
I went to high school with Angela Duckworth! Great to see Cherry Hill East alums continuing to inspire (And I think my parents had a similar view of happiness vs. success, Angela!). This is an excellent episode and I'm an instant fan of the podcast.
I hope you enjoy these selections.
Please post a comment & subscribe/follow my blog www.ProtectingSight.com!
(Addendum: I have created a page with all Protecting Sight Daily Learning posts here).